CAPTAIN, I'M GIVING IT ALL SHE'S GOT!
Who could forget one of the most famous sayings and characters in Star Trek, Montgomery Scott, or better known as Scotty? Born on March 3, 1920, in Vancouver, British Columbia, Canada, he was the son of a pharmacist, veterinarian, dentist, and serious alcoholic. His mother was a homemaker. He went to high school at Sarnia Collegiate Institute and Technical School, where he excelled in Math and Science.

During WWII, he enrolled in the 102 Royal Canadian Army Corps and fought in the battle of Normandy, where he was wounded by 6 rounds fired by a Bren gun by a nervous Canadian sentry. Four rounds were in his leg, one in his chest, and one in his right middle finger, which was amputated. He later hid this fact during his acting career. He was given a silver cigarette case by his brother, which saved the bullet from entering his chest. He graduated from the Air Observation Pilot Course and flew Taylorcraft Auster Mark V aircraft for the 666 Squadron of the Royal Canadian Air Force. Although he was never actually a member, he was labeled "the craziest pilot in the Canadian Air Force."

After the war, he moved to London, Ontario for further technical education. He won a 2-year scholarship to a drama school in New York City, where his classmates included Leslie Nielson and Tony Randall. He had several roles on radio and television, and in the mid '50s, he appeared as forest ranger Timber Tom in the Canadian version of "Howdy Doody." By a strange coincidence, William Shatner was playing the same role at the same time in the American version. They later worked together in the Canadian sci-fi series "Space Command." He has also been in episodes of "The Twilight Zone"; "Hazel","The Outer Limits", "The Fugitive", "Bewitched", " The Man From Uncle", and "Bonanza."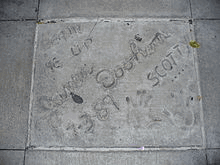 He developed a talent for accents as a young child and became one of the most versatile actors in Hollywood. He was married three times, had seven children. Two of his children, Christopher and Montgomery, appeared in "Star Trek: The Motion Picture", and the reboot of "Star Trek" in 2009. He, himself had appeared in the original series, the movies, and had a cameo on "Star Trek: The Next Generation." His persona defined his character, and Montgomery Scott was named after his grandfather. Much of the technical information used in creating the series came from his and Gene's technical educational background and knowledge of physics, mathematics, and science.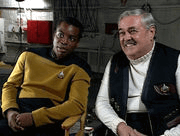 After Star Trek, he found himself being typecast and found it difficult to get future acting jobs. He supported himself by attending conferences and giving speeches until he became ill with Parkinson's disease and Alzheimer's. He died at home on July 20th, 2005. His ashes were sent into space three different times. The first two times were sub-orbital, the third was into space on May 22, 2012.
My favorite thing about Scotty was his way of trying to rig things together in the worst possible situation. This kind of reminded me of my own father and the way he would mend things together to get something to work. I remember once when he rigged a starter switch under the dash of my Datsun pickup because the starter switch had to be ordered, and wouldn't be there for two weeks. It worked and kept it going. Scotty always seemed to find a solution, even when things were grim. In Galileo 7, he used the phasers as an alternate source of power to run the shuttlecraft- ingenious.
Tomorrow, I will feature Deforest Kelley, better known as Dr. Leonard "Bones" McCoy, definitely one of my favorite characters. His southern doctor charm added a little bit of humor to the series. Until then, here are today's links:
http://en.wikipedia.org/wiki/James_Doohan
http://www.biography.com/people/james-doohan-273647
http://en.memory-alpha.org/wiki/James_Doohan