IT ALL STARTED WITH A MAN NAMED GENE
Here is a re-post from an earlier blog for this week's tribute to William Shatner. Gene Roddenberry was born on August 19th, 1921 in El Paso, Texas, under the name Eugene Wesley Roddenberry, but later came to be known as just "Gene." When he was a toddler, he almost died with his family in a house fire, but a milkman passing by saved them. Later they moved to Los Angeles, where Gene attended Los Angeles City College for police studies, and later changed to aeronautical engineering to qualify for a pilot's license. He joined the US Army Corps in 1941, as a flying cadet in WWII, and later became a lieutenant and was sent to the South Pacific. He received two medals during this time, and began to write as a hobby at first.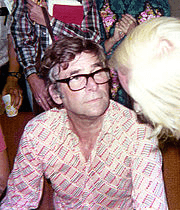 After the war, he joined Pan American World Airways. Seeing that Hollywood needed writers, he took a chance and quit his job, moving back to Los Angeles. He found few jobs for inexperienced writers, so he decided to follow in his father's footsteps and become a policeman. He continued to write; at first getting scripts to westerns and police shows, such as "Highway Patrol", and "Have Guns, Will Travel." His first series that he produced was "The Lieutenant" in 1964. In 1966, after being inspired by books, such as "Gulliver's Travels", he created and produced "Star Trek." The series ran for three seasons, although DC Fontana had taken over as producer by the third season. Most of the actors he hand picked for the series were ones he had worked w ith on previous projects, including Majel Barrett(Nurse Chapel), who he married on Aug. 6, 1969. He had one son, and two daughters from a previous marriage.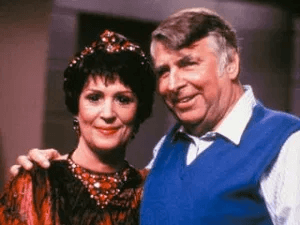 After Star Trek was cancelled, he produced a pilot for a 1972 show called Genesis II. The pilot aired as a movie in 1973, but lost out as a series to a spin-off of the "Planet of The Apes" movies. He reworked the plot and came up with a second pilot, called "Planet Earth", which starred John Saxon, for ABC with the same results. In 1977, he revived the Star Trek genre, with "Star Trek: The Motion Picture." By 1980, his role was reduced to "Executive Consultant", and attended conventions and gave lectures. Towards the end of the movie series, he produced and directed "Star Trek: The Next Generation" and the first two movies involving the new characters.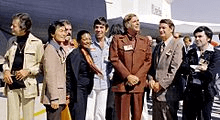 In 1989, after having contracted cerebral vascular disease and smoking most of his life, he had a stroke. His health declined, and he was confined to a wheelchair until he died of cardiac arrest on October 24, 1991. On April 21, 1997, a Celestis spacecraft carrying Gene, Timothy Leary and 22 others was launched into orbit. It burned up in the atmosphere in 2002. NASA named a crater on Mars after him in 1994. On September 4, 1986, a star on the Hollywood Walk of Fame was named after him.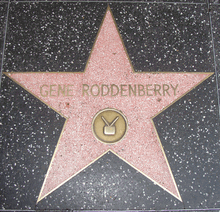 His innovation in the science fiction genre earned him the respect of the entertainment industry and science organizations such as NASA. Star Trek, however, was not just about science fiction. It was about relevant issues of the day, some issues that the networks thought were sometimes too controversial to discuss on prime time television. Hollywood had lost not just a great producer, but a cultural icon as well. Tomorrow, I will present a tribute to a well known, but not so well known in other endeavors, engineer named Scotty, or James Doohan. Until then, here are today's links:
http://www.roddenberry.com/corporate-gene-biography
http://en.wikipedia.org/wiki/Gene_Roddenberry
http://en.memory-alpha.org/wiki/Gene_Roddenberry